Here is an exploded view of a 97.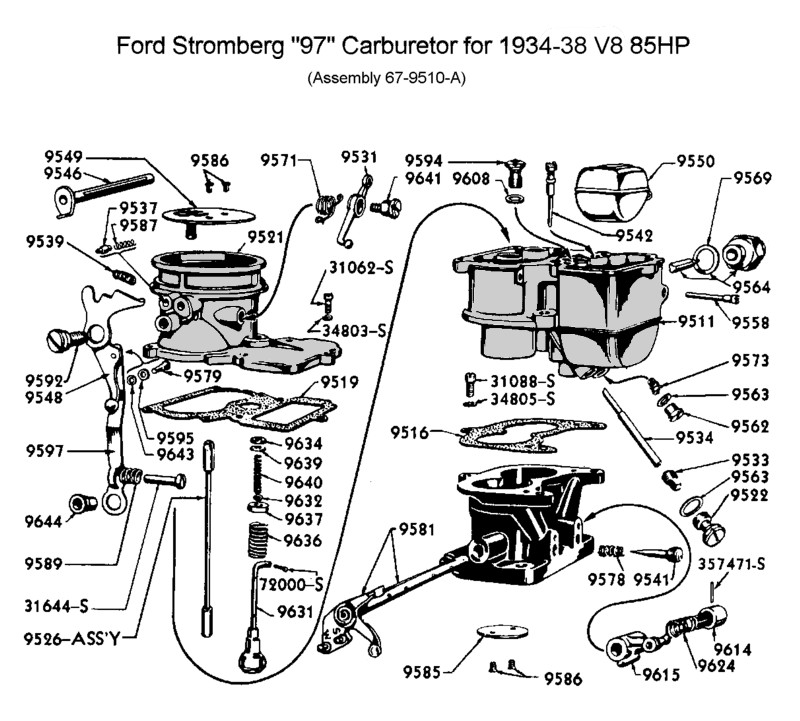 Do you have spares or extra #9542 idle jets, #9594 power (WOT enrichment) valves, or #9534 main nozzle/emulsion tubes?
Disconnecting the Accelerator Pump in a 97 prevents the power valve from opening. The Power Valve requires the Accelerator Pump to bottom out and push open the valve pintle at WOT.
Perhaps smaller Main Jets with a corresponding larger metering orifice in the power valve (below the Accelerator Pump) would lean the trouble spot and provide correct WOT A/F.
Have you tried lowering the float level?
I think you need to try smaller idle jets. Perhaps the old wire-in-the-idle-jet trick is the solution.
If all six carbs are opening together it will be extremely important to synchronize them in the off-idle range at about 2500-3500 RPM with a Uni-Syn or similar flow meter device. (I just had the thought that an old Ford MAF sensor from a small 4-cyl engine (late 80's – early 90's, maybe later) and a volt meter could be used as a synch-meter.)
You can multiply the fuel metering orifice areas by 1.45 for a starting point for E-85. You may need to enlarge the inside diameter of #9534. I know for methanol it is necessary.
I'll dig in my notes and see how the last few 97's I handled were calibrated. I know they are not always the same (after all these years, who is?).
What size main jets and idle jets are in them now?